MyGFC
Your Personal inFellowship Account
MyGFC (formally referred to as inFellowship) is a highly-secure, online tool that allows our church members and attendees to connect with what's happening at Grace Fellowship.
Through your own online account, you are able to access and update your contact info, manage privacy settings, contact group members, utilize the church directory, set-up online giving, review your giving history, and print off a contribution statement at tax time. MyGFC is the member portal of our church database, FellowshipOne.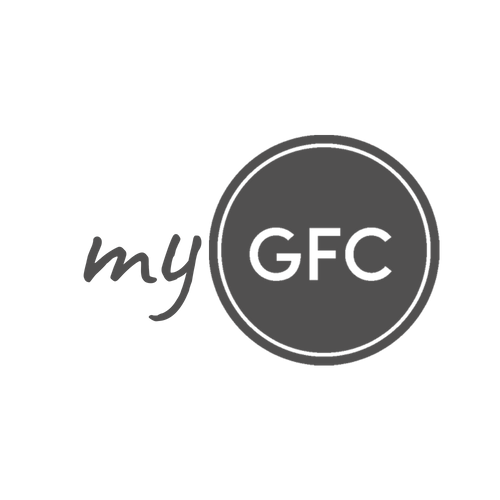 What can I do with my PROFILE?
Manage Your Information

: You can view the information we have on file for you and check it for accuracy. If you change your email address, physical address, or phone number, you can update it yourself online so we always have your current information.

Manage Privacy Settings: You specify and maintain which pieces of your information can be viewed by others that have opted-in to the MyGFC system.
View Church Director

y: MyGFC is our online church directory. This is where you go to find contact information for those who have opted to do so. Please note that if you have not opted into the online church directory, you will not be able to view it.

Upload your picture:  Your picture is only viewable by those you have established through the privacy settings.  It is a great way for others at GFC to recognize who you are. You can also upload a family picture viewable only by church staff.  Our pastors and staff love being able to see entire families when praying for you.

What can I do in the GIVE section of MyGFC?
Set-up/modify online giving: You can securely make a one-time contribution or schedule a recurring contribution from a bank account or credit/debit card.  You can modify/cancel previously scheduled contributions as well.
View your giving history:

 You are able to view your all giving history both online giving and giving through cash, checks, and stock donations for the current and the previous calendar years.

Print your contribution statement: At any given time, you can print your own giving statement for the current or the previous year.  Please note, if a statement is needed for years prior to the previous calendar year, contact the church office.
What are the Benefits of Online Giving?
There are several benefits to online giving for both you and the church:
Simplicity: You will not need to remember if you gave this month or pay period, or send your offering checks when you are out of town.
Security: 

Online giving is more secure than giving with a check in that an electronic gift can't be lost or stolen. For additional information on how GFC keeps your information and contributions secure, 

click here

.

Helping Grace Fellowship Church: Online contributions require less processing from our administrative and volunteer staff since the information is logged to your donor record and deposited automatically.

What can I do in GROUPS?
Communicate with group leaders and members: See who is in the groups and serve teams that you are a part of at GFC. Email them or get other contact information for the leaders and other members in the group/team.
Already involved in a group or on a serve team? Opting-in to the MyGFC system enables your leaders to keep you up-to-date with information, future meetings and other news.
Searching for groups is done through our church website at 

graceky.org/groups.

Ready to get started?
Register as a new user:
Enter in the following information:

First Name
Last Name
E-mail Address
Password

Check your email for an activation message. It contains a link that will take you back to MyGFC.

If MyGFC found your matching record (based on first name, last name, and e-mail) on file with GFC, it will take you right to the privacy page to update your 

privacy

 settings.

If no record was found, you will need to fill in your information such as address, phone, etc.
The church office will be monitoring requests for MyGFC access and every week will be linking records from MyGFC to GFC records.
Please remember the church directory is a function available to the church for the purpose of connecting its members, not for soliciting business or selling information. Anyone found using this information for anything other than church functions will have their access to MyGFC revoked.
MyGFC Help & FAQ
What if I forgot my email or password?
Why can't I find someone in the directory?
The directory is an opt-in system, which means that only people who choose to be in the directory can be viewed. This allows everyone to choose their own privacy. You can add yourself to the online directory by going to the privacy settings and checking the "Include me in the church directory" box.
I've created an account and features such has groups, directory, and giving history aren't there.
If the system can't link your MyGFC account to your database record with the church, you won't be able to see your information quite yet. These records get linked every few days or you can contact us to have this processed sooner. This assures random website visitors can't access your information. If this problem persists please send an email to [email protected].
Will my name be in the church directory if I do not register with MyGFC?
No, you must have a MyGFC account and check the box to be included in the church directory. If you do not have a MyGFC account you cannot access the church directory either.
Can anyone view my information if I register?
No, only people in our church who have the status of member or attendee in our database can view the directory.
We only have one email address, can we use one email for multiple family members?
No, each family member will need a separate email address to access their separate accounts.
I have followed the instructions and I can't log in, who do I contact?
My email address is now connected to my spouse's MyGFC account. How do I create my own account?
MyGFC only allows an email address to be associated with one person or account. Here are the steps to change an email login:
Sign-in

to the account.

Select Account in the top right corner.

Select Change Login/Password

Enter a new login email. (You may keep the password the same. )

Sign out.

Create a new account with your email address.
(Use the "Register" button rather just sign in since you need to create a new account.)
Why does my profile say it's not 100% complete?
A profile is listed at 100% complete when you enter ALL the fields in under your profile. Don't worry if you don't hit 100%!
Is it safe to give online?
Yes. In many ways giving online is safer than writing a check because an electronic contribution cannot be lost or stolen. The security of the system is continually managed by our online provider, Fellowship One. To find out more about your security click here.
What type of bank accounts can I give from?
You can give online from your debit/credit accounts using Visa, MasterCard, or Discover Card.
Are there any fees involved with giving online?
You will not pay any fees with an online contributions. Any fees incurred are paid by GFC. However, online contributions are a more cost efficient and convenient way for the church to process donations.
Can I make a one-time contribution?
Yes. The system allows you the option of either making a one-time contribution or setting up a recurring contribution. For a one-time contribution, you can designate that the contribution should be made immediately or, for both one-time and recurring contributions, you can schedule the contributions to come out of your bank account on the date(s) specified by you.
If I want to set-up a recurring contribution, what are my options for frequency of my contribution?
For recurring contributions, you have the option of giving weekly, monthly, twice a month, or every two weeks. You may also specify the starting and ending dates for your recurring contributions.
Can I change my personal information or the amount of the frequency of my contribution once I have set it up?
Yes. You can change or cancel your contribution at any time before the date of your next scheduled contribution (once a contribution has been processed it cannot be canceled). Simply log in to the system using your user name and password and make the necessary changes in the system.
Can I review my contribution history online?
Yes. The site will allow you to view the complete history of your contributions, given either online or otherwise. Once you've created an account, you will be able to contribute immediately. In some cases, before you can see any past contributions, we must manually connect your online account with your previous information. This is a one-time process that usually happens within a week of creating your account. After that, you can view your giving history (online or by check) at any time.
Can I see history for other members of my household?
Yes, if you are in the system as an adult you will be able to view giving history for all members of your household. In order to view history or generate a statement for selected people in your household, select the person or people you want to display under the "Contributions for" selector and click "View". Click the "Download Statement" link to generate a statement for the person or people in view.
Why are some contributions attributed to my household and other attributed to an individual?
All online contributions are always attributed to the individual whose MyGFC ID was used to set up and process the contribution. This is because an MyGFC ID is used for one unique person and cannot be shared among multiple people. Paper checks processed by the church are usually attributed to the household. We anticipate this difference not being an issue for married couples filing jointly since it doesn't matter whose name is on a gift for tax deduction purposes.

For instances where you need to show an individual's giving on a separate statement, select the person you want to display under the "Contributions for" selector and click View. Click the "Download statement" link to generate a statement for the person in view.
Will I still receive regular contributions statements from the church?
No, all user's that have an MyGFC account can download their contribution statements at anytime.  If you would like to have a paper statement sent each year, please, click <here> to request a paper statement be sent to you each year at the end of January.
When will contributions be taken from my account?
Contributions will be taken from your specified bank account within 2 business days of the date you requested. This time frame allows time for the contribution to process through your bank and the church's bank. If the date of your contribution falls on a weekend or a holiday, the transaction will be initiated on the next banking day.
Can I designate my contribution to a particular ministry or account?
Yes, you can designate your gift to go toward one of the following accounts:
<FIX>
1 – General Fund:  This is our general fund and can be used for normal tithes.  This supports the ministries, staff and general operation of our church.
2a – Missions (Cross-Cultural Workers & AoGI):  Use this fund if you want to fund a particular
2b – Missions (Short-Term Trips):  Use this fund if you want to fund a particular
3 – Special Offering:  Your contributions to this fund 
We may also add additional funds at specific times.  
How will I know that I set-up my contribution correctly?
Very shortly after submitting your contribution, you will receive an email verifying your contribution and you will see it in your giving history online.
If giving for the first time after setting up your account, you will be able to see past giving history in about a week.
I have additional questions about online giving that have not been addressed. Who can I talk to?
For any questions, concerns or comments about the online giving system, please contact Cherie Knutson. 
Toggle title
Toggle content goes here, click edit button to change this text.
Can I give online or paper check?
Yes, you can give via online or paper check. If you'd like to write a paper check to Grace Fellowship Church, please send it via mail, deliver it in person, or place it in an offering box before or after one of our services. Our address is:
Grace Fellowship Church
9379 Gunpowder Road
Florence, KY 41042
Create an account?
Go to MyGFC.
Click "Register" in the upper-right corner or "Sign-Up."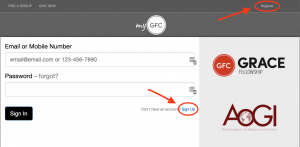 Complete all required fields and click "Create an Account."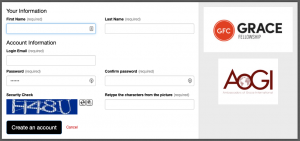 Check the email account you used to create your account. You will receive an activation email that includes a link to activate your account. Click the activation link to complete the process. If you don't see the email in your Inbox, check your Spam folder.
Update my profile?
To update your profile from your MyGFC page, click on "Update Profile" and you will be taken to your profile overview where you can view your current information, update your profile and privacy settings, or change your email and/or password.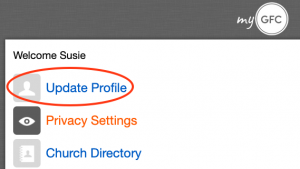 To make changes to your profile, select "Update your profile" on the right side of your profile.

Remember, you have control over every item listed on your profile using your privacy settings. This is set by YOU, the individual, and not by the church database.
All items with an asterisk are required fields and must have a value.
The progress bar feature will let you know whether or not your information is complete. In order to reach 100%, you must include the following information:
Profile photo
Date of birth
Gender
Phone (Mobile, Home, and Work)
Website URL
Social Networks URL (Facebook, Twitter, or Linked In).
Once you have entered your information, click "Save Changes" at the bottom of the page.
Note: Any changes you make to your profile will affect the information that we have on file for you in the church database.
Opt-In/Out of the church directory?
If you decide to opt-in, the church directory will become available and allow you to see and communicate with the people who attend GFC.
Each church attendee must opt-in to the Church Directory. Click "Account" and then "Privacy Settings." Locate the "Include me in the church directory" option and save your settings. When visiting the directory, you will only see other people who have opted-in.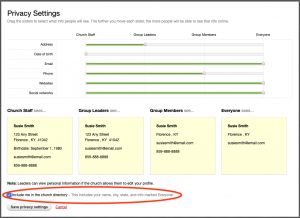 Additionally, your name may not immediately appear in the directory. In some instances, we may need to manually approve your account before you may access the church directory.
When you opt-in to the directory, your name, city, state, and postal code will be included in the directory by default. Additional information is included based upon how you have set your privacy settings. The Everyone option applies to the church directory specifically.
If you are not granted immediate access to the church directory after opting in, please use the "Contact Us" link at the top of the screen.
Upload my picture?
Yes! Upload a picture that is a close up of your face so that we can get to know you!
From your MyGFC page, select "Update Profile" to upload a profile picture.

Select "Update your profile" on the right side of the page.

Select "Change" on the left under the picture box.

Upload a file. (must be under 1MB)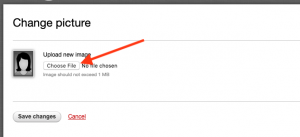 Having trouble uploading your picture?  Send it to us at [email protected] and we will upload it for you.
Give on-line via MyGFC?
You can access the Online Giving feature right from your profile. Simply click "Giving" on the menu at the top or "Your Giving" toward the bottom.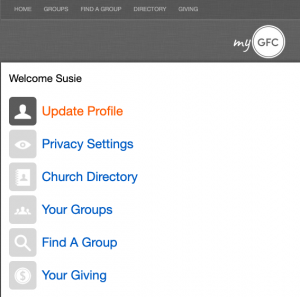 The link takes you to your Giving home page. There, you can view your Giving History, create or view Giving Schedules and Download your Giving Statement.

The "Give Now" link allows you to make an immediate gift.  Default is to give by a ACH but to give by credit card, select "Bank card" in the middle of the screen.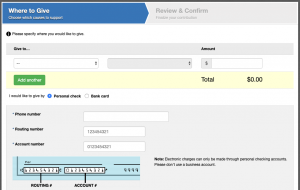 The "Schedule Giving" link allows you to create a schedule with a future date.

You can choose to give:
Once

Monthly

Twice monthly (1st and 16th)

Weekly

Every two weeks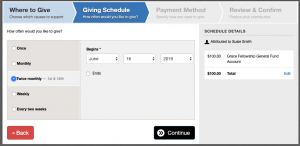 With each option, you'll have a chance to enter a Payment Method (eChecks and/or credit cards) and you'll have the chance to review and confirm your choices.
You will receive an email confirmation letting you know when the transaction has been processed. You will receive either a confirmation of acceptance email or a transaction failure email.
Change or delete my giving amount, frequency, or bank information?
To modify your giving from your MyGFC page, select "Your Giving."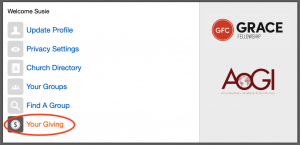 Select the "Schedules" tab.

To change an existing schedule, click on the the name of the schedule.

From here you can put your giving on hold by selecting "Pause this schedule" (#1).  To change the frequency of the giving select 'Edit this schedule" (#2).  You can change the fund or the amount given by selecting the "Where to give" EDIT button (#3).  If you need to change the source of the giving, the bank account or credit card, select the "Payment information" EDIT button (#4).

To DELETE the giving schedule completely, click on DELETE THIS SCHEDULE at the bottom of the screen.
Download my giving statement?
Now you are able to acquire your giving statement at your convenience by downloading it yourself.  Simply log in to your MyGFC account, click "Giving" at the top of the page or "Your Giving" towards the bottom.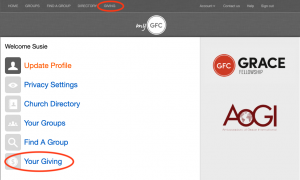 If there are multiple people in your household, you made need to select the individuals in your family whose giving should be on your statement (#1 below).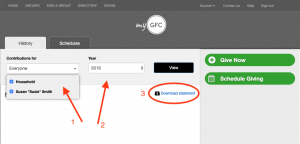 Next, select the year (current or previous) you want to generate the statement for (#2 above). Choose "View" to see the giving history on screen or "Download Statement" (#3) to print or save a copy. Contribution statements will be generated as a PDF document (portable document format). Adobe Reader is required to view the PDF. If you do not have Adobe Reader, you can download it here for free.