Counseling & Discipleship Training
2020 DETAILS COMING SOON
Wouldn't you love to know how to help a real person with a real problem using your Bible?
If so, then this conference is for you, because our desire is to see believers, young and old, living with a quiet, humble confidence that God could actually use us to help someone else. Isn't that what God has us here on this earth for – to be salt and light? We're convinced that God could use this conference to help you become saltier and brighter and to start living on purpose, for the glory of God. 
"The material in this conference has changed my life and keeps on changing my life year after year because it's rooted in God's timeless Word. We are living in perilous times with the family and society around us breaking down at an alarming rate, which creates an even greater opportunity to share the Gospel, apply biblical truths, and lift up our Savior."
– Brad Bigney, Lead Pastor at Grace Fellowship Church
Do you know how to help someone from God's Word?
The Foundations Track provides the fundamental training required to counsel biblically.
---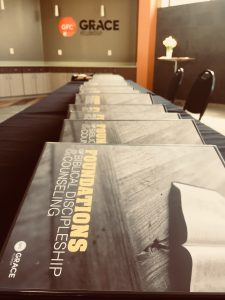 Seminar Schedule
Friday 5-9:45pm | Doors open at 4:30pm for check-in
Saturday 8:00am-4:30pm | Lunch is included
Complimentary drinks and snacks are provided throughout the conference schedule.
The Advanced Track is one weekend of instruction designed for those who have completed the Foundations Track, but it is not essential to have done so. This training serves the purpose of encouraging and equipping believers for further effective ministry.
---
2019's Advanced Track | Battling Addiction
Learn more about the heart of addictive issues and how you can help the addicted and their family members. Discover what triggers and tempts the addicted, hear testimonies of God's work in transforming the lives of the addicted, and gain biblical insights into the common heart issues of all types of addictions. A variety of speakers along with experienced counselors in the field of addiction will teach, answer questions, and provide practical tools on how best to help the addicted and their loved ones.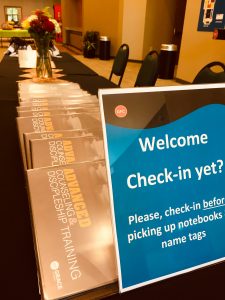 Seminar Schedule
Friday 5-9:45pm | Doors open at 4:30pm for check-in
Saturday 8:00am-4:00pm | Lunch is included
Complimentary drinks and snacks are provided throughout the conference schedule.
Is this training only for counselors?
No way! This training is for anyone who wants to learn how to help people using the Bible.
If you're a Community Group Leader in your church, we believe this training will help you become ready to assist when people in your group are hurting as it gives you the foundations of using Scripture to address heart issues, which we all have.
But if you're interested in learning how to counsel biblically or work through the ACBC Counseling certification process, this training is especially for you.
What will this equip me to do?
You likely know someone who has a troubled marriage, has kids who are struggling with disobedience, or are friends with someone who has experienced a tragic loss. We all know these people, but so often we do not know what to say when we are faced with the struggles of these people we love so much.
We offer counseling and discipleship training because we want the church of Jesus Christ to grow in wisdom and skill about how to say helpful things to people going through intense difficulty.
At CDT, you will learn
How to help someone who feels trapped by a sin they cannot overcome
What to say to someone who is experiencing a heartbreaking loss
How to offer care to your friends who are experiencing trouble in their family
Does this fulfill the requirements for ACBC certification?
I do not attend Grace Fellowship Church, can I still come?
Absolutely! Many people attend this conference who come from different states around the country and even around the world! We'd love for you to join us!
What's the location for this training?
Is childcare provided?
Childcare is NOT provided for this training.
Is parking free?
Yep! But gas money is on your own. 🙂
I'd like to come, but I can't afford it. What should I do?
Give us a call or shoot us an email and we'd be happy to work with you.
859.371.7880     [email protected]