How to Act Right When Your Spouse Acts Wrong
---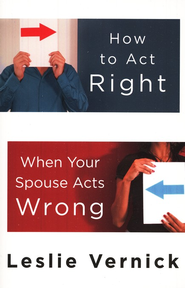 Type: Book
Location: MR
Author: Leslie Vernick
Price: $8.00
Description:
Experience the blessings of an imperfect marriage.
There are no perfect marriages or perfect spouses. We know that having a good marriage requires effort and hard work.
In this book, you'll find the answers to questions as the author reveals how God uses the imperfections, differences, and sins of your spouse to help you become more like Christ.
-discover how to respond wisely when wronged.
-see yourself and your marriage through the lens of God's eternal purposes.
-learn how to love and to keep your promises when you don't feel like it.
-Understand how to act when love must be tough.