Healing after Abortion
God's Mercy is For You
---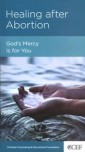 Type: Mini-book
Location: MB, W
Author: David Powlison
Price: $4.00
Description:
The turmoil women experience after having an abortion is sometimes called "post-abortion syndrome.
You don't need a technician term to describe what you are feeling. The guilt, regret, depression, and grief are the honest struggles of a women who's had an abortion and takes to heart what happened.
The author shares that whatever reactions and emotions you experience, God is committed to entering into your struggle, giving mercy, hope and healing.