Chronic Illness
Walking by Faith
---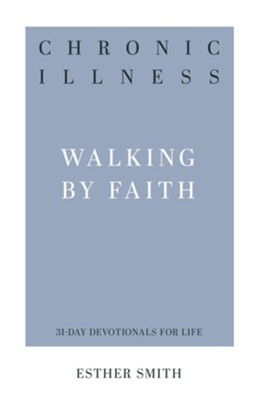 Type: Book
Location: B
Author: Esther Smith
Description:
Is chronic illness taking over your heart as much as your body?
Physical symptoms and limitations change all aspects of life, leading to losses and to unique challenges that are difficult to navigate.
Writing from her own experience with these issues, Esther Smith focuses heavily on encouragement and practical applications, showing you how to release guilt and shame, ask for help, balance work and rest, and get through days of difficult symptoms.  Each day, you will be encouraged as you consider how God uses illness in sanctifying, kingdom-advancing ways to display his glory and work in your heart.
Reviewed by Ally Patterson, a fellow sufferer of chronic illness.  She says:
It has short chapters (Good for people who may be in pain with limited ability to concentrate)

The author is very conversational and relatable.  She "get's it", speaking from experience.  Each chapter is written with gentleness,  compassion and understanding, while not watering down the truths of God's Word.

Each chapter has reflection questions and action steps.  They will help people get the truth into their hearts and lives.  The questions would be good biblical counseling homework.

Every chapter is saturated with scripture and calls attention to God's Word and character.

It  speaks to the shame we have to fight, as people who suffer with chronic illness, and reminds us that our worth is not based on what we can do for Jesus, but in what Jesus has already accomplished for us.

This book strikes the balance of calling chronic pain sufferers to sacrificial love, service and growth in holiness without minimizing the pain people are experiencing and acknowledging that there are very real physical limitations that make the way we live for Jesus look different than "normal" people.