Middle School Camp Details
Registration Instructions
Click the registration button above.
Click "Register"
Create an account or use login information from last year
Select individual or click Click + A Person to add a camper
Enter password: GraceKY
Complete the form. You can click "No, this information is not complete. I will return to my account at a later time and complete it" on each page to pay the deposit and complete the form later.
Everything You Need To Know
Refund Policy
Registration payment must be paid in full at time of registration.
Full refund available if cancelation is 2 weeks before the trip.
Drop-off/ Check-in
Students are to be dropped off at the Fort Thomas Campus on June 28 at 6:30am.

90 Alexandria Pike, Fort Thomas, KY 41075
Pick-up
Students are to be picked at the Fort Thomas Campus on July 2 at 6:30pm.
We will send out a text message to communicate with parents the exact time of pick-up.
Packing
Finances
We never want finances to be a hindrance to attending camp, email [email protected] about a scholarship.
Medication
If your student is taking medication on the trip we will need it noted on the registration form and declared at check-in. Medication will be administered by the camp nurse.
Don't forget to retrieve your student's medication at pick-up.
Emergency Contact
In the event of an emergency, parents may contact Joey Koo at 859-620-8099, Caleb Lewis at 859-657-6174, or Tanner Cox at 859-640-6990.
Prohibitions
Cell phones and all other electronic devices are strictly prohibited throughout the week; they are allowed on the bus ride to and from camp. All devices will be collected upon arrival to camp and redistributed upon departure from camp.
Knives, airsoft/paintball guns, and/or weapons of any kind are strictly prohibited.
Alcohol, tobacco, and drugs of any kind are strictly prohibited.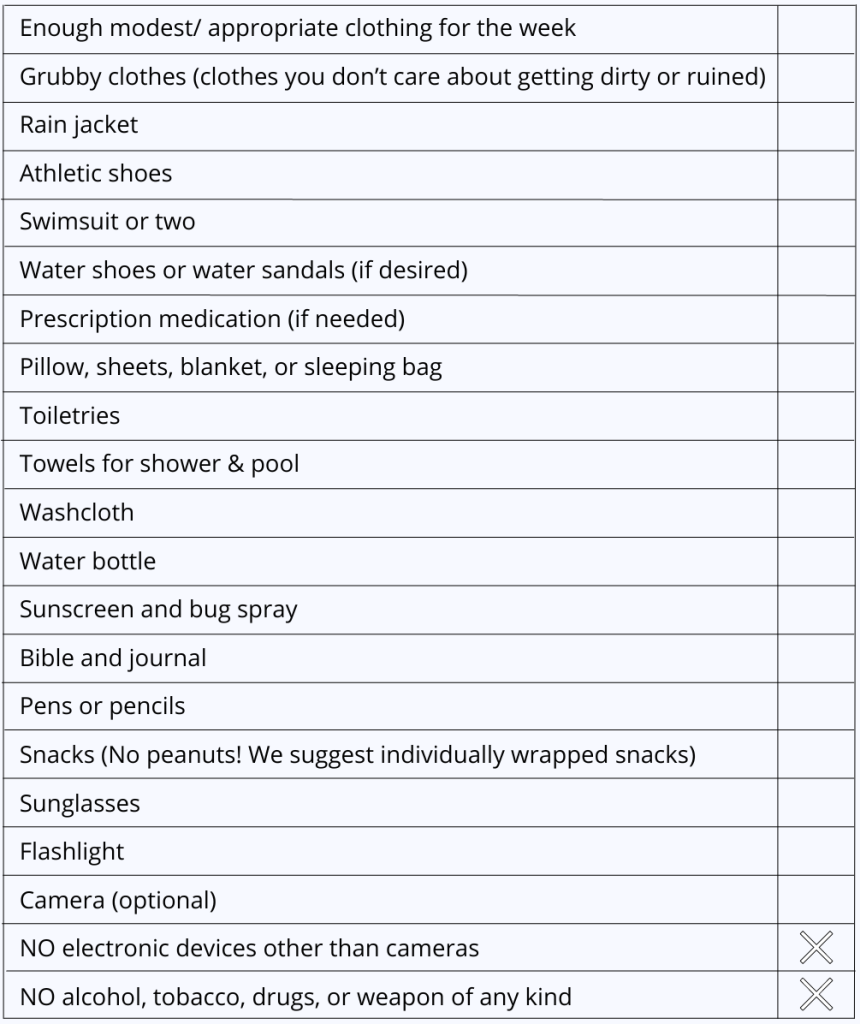 The best week of the year!