Fellowship of Christian Athletes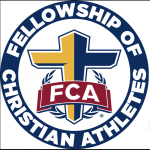 Check out what God is doing through FCA, ways you can pray, and even opportunities to serve!
Please pray 2 Timothy 2:1-2 with us,
"…be strengthened by the grace that is in Christ Jesus, and what you have heard from me in the presence of many witnesses entrust to faithful men, who will be able to teach others also."
Updated 2/18/20
The Fellowship of Christian Athletes (FCA) is touching millions of lives…one heart at a time. Since 1954, FCA has been challenging coaches and athletes on the professional, college, high school, junior high and youth levels to use the powerful platform of sport to reach every coach and every athlete with the transforming power of Jesus Christ. FCA focuses on serving local communities around the globe by engaging, equipping and empowering coaches and athletes to unite, inspire and change the world through the gospel.