God has richly blessed us and we want to take every opportunity to thank Him through our giving of time, talents, and money.
To think through these matters more, listen to Pastor Brad's Sermon Series – Money: God or Gift?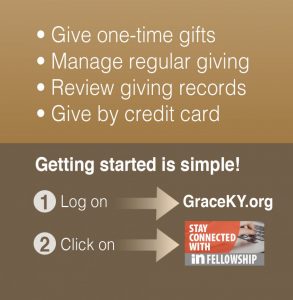 There are many ways to give!
Electronic Funds Transfer (EFT)
Electronic Funds Transfer requires your bank checking account number and routing number to be submitted, or you can also give using your credit card. To do this simply log-in to (or create) your InFellowship account.
If you have any questions, please contact Cherie Knutson.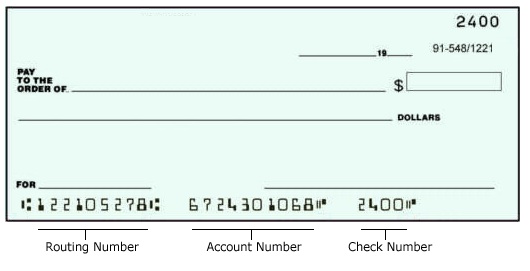 Cash & Checks
Please make checks payable to Grace Fellowship Church. These may be dropped off in the offering boxes at the exits of the Worship Center at the Florence Campus, by the exits at the Fort Thomas Campus or in person at the church offices during normal church hours. Checks may also be mailed to the address below:
Grace Fellowship Church
9379 Gunpowder Road
Florence KY 41042
Automatic Bill Pay
Through your own bank, set Grace Fellowship Church as the vendor.
Donations, Securities and Contributions
Questions about the donation of non-cash items such as stocks, mutual funds, etc. or issues related to contributions may be directed to Cherie Knutson.
Year-End Giving Statements
As of January 2018, all year-end statements will be paperless and can be printed through InFellowship.  If you would prefer to have a paper copy mailed to you, please click here.

Additional Ways to Support GFC
Amazon Smile
Amazon Smile works the exact same as Amazon Prime. The only difference is that when customers shop on AmazonSmile (smile.amazon.com), the AmazonSmile Foundation will donate 0.5% of the price of eligible purchases to the charitable organization of your choice! (hint, hint… Grace Fellowship!)
The catch.  You have to start at smile.amazon.com when you shop.
The first time to go there, you can search for Grace Fellowship Evangelical Free Church and choose that as the charity.  It will remember it for the future.  Again, you still get all your Prime benefits if you are a Prime member and it gives a percentage back to GFC.  It will show "Supporting…" right under the search bar when you go there.
Kroger Community Rewards
Did you know you can enroll in the Community Rewards program to raise money for Grace Fellowship (Ambassadors of Grace International) simply by doing your grocery shopping? If you're already enrolled, it takes all of 2 minutes to re-enroll … and just 5 if you're enrolling for the first time!
The process is super easy:
1. Go to kroger.com/communityrewards
2. Sign in (if you've already registered with Kroger) or select "Create an Account"
3. After you sign in – or as you go through the account creation process – you will be asked to enter our assigned # – 81783 (listed as AOGI / Grace Fellowship Church)
4. Once you enter the # and select "Search," the system will list AOGI / Grace Fellowship Church as an option
5. Click the radio dial next to our name, then click "Enroll"
6. That's it!!
Kroger will donate 3% of your purchase total to GFC … or in other words, for every $100 you spend at Kroger, we get $3 of it.