A Praying Life is among the most impactful books I've read on prayer. It's life changing with no guilt trips.

Pastor Brad Bigney, Grace Fellowship Church
Many of us are quietly defeated in our private prayer lives. We've tried praying, but it just doesn't seem to work. So we feel a combination of frustration and guilt. In this interactive seminar, we will learn step-by-step how to begin a private life of prayer in fellowship with our heavenly Father. This seminar is not for victorious Christians, but Christians who often find themselves defeated in the trenches.
We will tackle such practical questions as…
 How do you stay focused when you are distracted with so much to do?

 How do you pray longer than five minutes?

 How do you pray when your own life is messed up?

 How do you ask when you've tried it before and it doesn't work?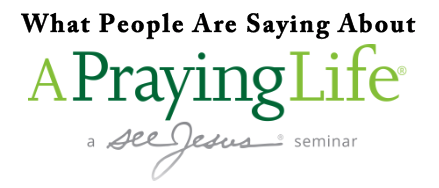 The 'A Praying Life Seminar' is the most practical training in prayer possible, yet it is rooted in biblical theology. I highly recommend it.

Rev. Timothy Keller, Redeemer Presbyterian Church, New York, NY
I expected our people to come away from the conference talking about prayer. What I didn't expect was for their (and my) relationship with the Father to become more intimate during the conference itself.

Doug Goodin, Senior Pastor, Front Range Alliance Church, Colorado Springs, CO
'A Praying Life' transformed my thinking and deepened my spiritual life. It was both interesting and
nonthreatening. The seminar is solid theologically, emphasizing the sovereignty of our loving Father, the
centrality of an inviting Savior, and the preciousness of the gospel for compelling us to pray.

Marlin Mohrman, Lead Pastor, Morris Evangelical Free Church, Morris, MN
A Praying Life changed my prayer life to be more grace-filled. I have found more freedom to come to Him when my heart and mind are messy, and let Him work in that messiness.

Seminar Participant, CRU, Chicago, IL
You convinced me to begin praying for my daughter whom I hadn't seen in four years. I tearfully filled out the prayer card and began to 'ask big' that our relationship would be restored. When she called a few weeks later, I asked my husband to call you first with the news! These prayer stories you talk about are for real!

Mom and pastor's wife in the southeastern USA
What's the location for this seminar?
Is childcare provided?
Childcare is NOT provided for this seminar.
Is parking free?
Yes and there's plenty of it! But gas money is on your own. 🙂
I do not attend Grace Fellowship Church, can I still come?
Absolutely! Paul Miller's writings, teachings, and stories have impacted many people so please join us for this unique opportunity God's given our church to learn from him live and in person!