Why Do I Care?
When Others' Approval Matters Too Much
---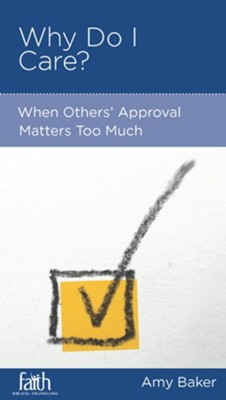 Type: Mini-book
Location: MB
Author: Amy Baker
Price: $3.00
Description:
It is difficult and sometimes frightening not to have the good opinion of others.  No one likes to face the possibility of rejections, humiliation, or opposition.  Yet, making others' approval our goal confines us to a small world where life consists of pleasing others.
Experienced counselor Amy Baker shares that rejection by others is not the whole story.  There is a bigger story of God's love for his people.  His love endures forever.  His love can be relied upon, while people's opinions shift and change according to whether or not we are pleasing them.  But God, in Christ, is totally pleased with us.  His opinion of his dearly loved children will not change.  When you remember these truths and replace your anxieties abut approval with them, you will be free to live and love in God's world.