Why Christians Can't Trust Psychology
---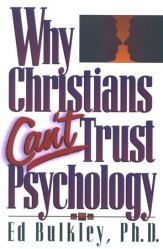 Type: Book
Location: CO
Author: Ed Bulkley
Price: $12.00
Description:
Today's search for inner fulfillment has exploded into what is now called the Recovery movement, complete with twelve-step seminars, counseling programs, and self-help books.  Thousands are looking to Christian psychology to help them attain victory over modern dysfunctions.
Does that mean the Bible alone is no longer adequate for the problems faced by Christians today?
With deep insight and candor, pastoral counselor Ed Bulkley presents the opposing sides of this issue – and offers trustworthy, biblical answers for those who long to break away from pain and guilt and know true freedom….genuine inner peace….and a fresh beginning.