Transformed Into His Likeness
A Handbook for Putting Off Sin and Putting On Righteousness
---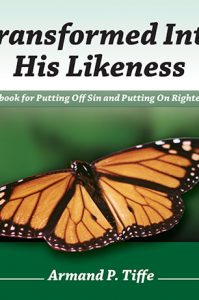 Type: Book
Location: CO
Shelf: IND
Author: Armand Tiffe
Price: $7.00
Description:
Many Christians pray, "Lord, change me."
Here is biblical help for those who want to change.
Transformed into His Likeness is a valuable resource for individual Christians seeking help in personal struggles, or for pastors and counselors and those they counsel.
This workbook contains over 100 common problems facing Christians today along with biblical solutions for each, including special categories dealing with hindrances to spiritual growth, husbands and fathers, wives and mothers, teens and children.  The explanation on how a believer changes and grows in Christ-likeness is enlightening and easy to grasp.  The Scriptures are a great resource right at your fingertips.