Together Through the Storms
Biblical Encouragements for Your Marriage When Life Hurts
---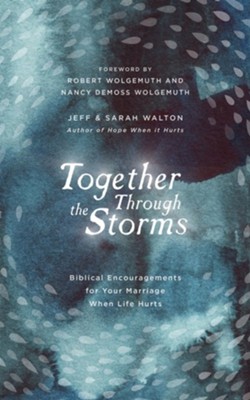 Type: Book
Location: MR
Author: Jeff & Sarah Walton
Price: $15.00
Description:
All marriages pass through storms-sometimes they blow in from outside, and sometimes they blow up from inside.
In this moving, realistic, hope-saturated book, Jeff and Sarah Walton reflect on their own experiences in a marriage that has faced chronic illness, the after-affects of abuse, a child with neurological challenges, and financial difficulties0-and they show how to cling to Jesus and each other.
So this book is very different than most books on marriage.  It's for the storms: to prepare for them, navigate them, or deal with their aftermath.  Learn how to walk through heavy weather together-and find yourself stronger in the storms.