Emotionally Abusive Parent, The
Its Effects and How to Overcome Them in Christ
---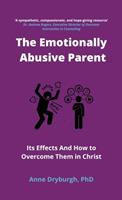 Type: Book
Location: GR
Author: Anne Dryburgh
Price: $9.00
Description:
This book gives us a biblical perspective on what secular counselors call "emotional abuse".
It explains how an abusive parent relates to a child, and the effects on the child.
It will assist you in discovering how you can live out the profound truth that in Christ you have everything, including everything for dealing with your childhood experiences.