Pre-Engagement
5 Questions to Ask Yourselves
---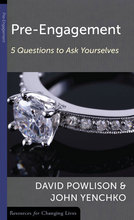 Type: Mini-book
Location: MB, MR. SS
Shelf: IND
Author: David Powlison
Price: $4.00
Description:
How do you know if you're ready to marry?
What are the signs that a man and a woman are heading in the same direction and are right for each other?
A biblical counselor and a pastor team up to offer five pertinent questions that help couples decide whether to commit themselves to each other for life.
The questions:
1. Are you both Christians?
2. Do you have a track record of solving problems biblically?
3. Are you heading in the same direction in life?
4. What do those who know you well think of your relationship?
5. Do you want to marry this person? Are you willing to accept each other just as you are?