Love Walked Among Us
Learning to Love Like Jesus
---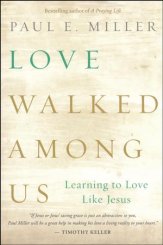 Type: Book
Location: GR
Author: Paul Miller
Price: $13.00
Description:
Jesus was love personified—compassionate, honest, humble, powerful.
How did he do it? And how can we learn to love as he did?
Weaving Gospel stories with experiences from his own life, Miller explores how to be honest without judging, depend on God, let love be energized by faith, embrace the way of humility, and more.