Longing for Motherhood
Holding on to Hope in the Midst of Childlessness
---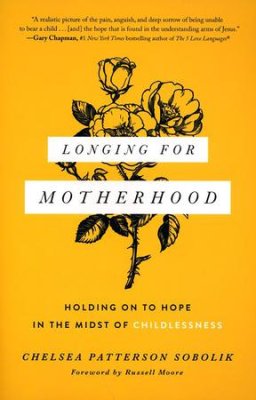 Type: Book
Location: W
Author: Chelsea Patterson Sobolik
Price: $10.00
Description:
Chelsea was just nineteen when a doctor told her that she would never be able to have a baby.  Like so many other women, Chelsea had a deep desire to one day have children and be a mom.  The shadow of her diagnosis loomed heavily over her life for years as she wrestled with disappointment, lost dreams, and a sense of being abandoned by God.
But in time, Chelsea found a way forward.  In Longing for Motherhood, Chelsea shares her own story and what she discovered along the messy path toward wholeness and hope.
Whether your dreams of being a mother has been shattered by infertility, miscarriage, or prolonged singleness, you are not alone.  Join Chelsea as she explores how to:
grieve unfulfilled desires

trust God in seasons of sorrow

fight for and hold on to hope

find purpose when a traditional mothering role isn't an option
Discover God's help and hope in the midst of your pain.