Living in a Gray World
A Christian Teen's Guide to Understanding Homosexuality
---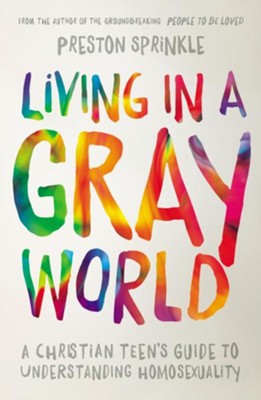 Type: Book
Location: SS
Author: Preston Sprinkle
Price: $10.00
Description:
What do you do when the answers aren't black or white?
Homosexuality has become one of the most talked-about topics in the world.  But the way you as a Christian should respond can feel more confusing than ever before.  For instance, can you be best friends with someone who is gay?  What if your sister is a lesbian, or you think you're attracted to the same sex?  Does the Bible really say homosexuality is wrong?  And how would Jesus treat LGBTQ people if he were here today?
Author Preston Sprinkle has encountered these same questions and, as a Christian and a college professor, he had dealt with these issues firsthand.  Through honest conversation, real-life examples, and biblical research, Sprinkle unpacks what we can know to be true and how Scripture's overall message to us today allows us to move forward and find answers that align with God's intent.