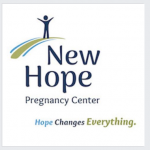 Praise God with us!
• The Father Daughter Dances were a big success again this year
• One abortion-minded couple is now signed up to take parenting classes
• Our Google Ads are working at reaching more abortion-vulnerable clients
• God IS sending more volunteers (but we still need lots more)
• New Hope was invited to the baptism of a client's baby and the mom's mentor was able to be a part of the service
Please pray for-
• God's direction and guidance for the board, staff, and volunteers
• More abortion-vulnerable and abortion-determined clients to choose life
• Protection for our centers
• More mentors to volunteer (especially male mentors for every shift)
• Clients with no relationship with Christ to have open hearts to the gospel
• Clients who respond to our Google Ads to keep their appointments so that they may hear the gospel
• Upcoming events:
-Florence Freedom Night of Hope | May 12th
-Walk for Life | May 18th
-Annual Fundraising Banquet | October 8th
Updated 3/19/19
New Hope Center seeks to strengthen families in Northern Kentucky by offering caring support in powerful ways. They offer hope, help and healing through a range of compassionate services, including abortion alternatives for families experiencing untimely pregnancies.