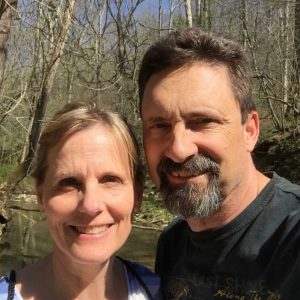 Meet the Markesberys
Doug and Diane have been serving in Romania since 2012. They have been married for 38 years! They have 3 grown married children who are believers Bethany/Josh, Allison/Dirk, and Adam/Sarah. They have been blessed with 6 grandchildren so far. They LOVE their grands and work to influence them for the kingdom of God. They are a close family and stay in contact with each other every day through iMessage and FaceTime on a regular basis.
The Markesberys – together with their Romanian Christian friends – have established a school for training and certifying Biblical Counselors.  The national religion in Romania is Orthodox. Only about 6% of the population is evangelical. They serve with the evangelical churches to help strengthen their ministries and to help churches do discipleship and fellowship. They are working now to establish a few "Certified Biblical Counseling Training Center" churches around the country.
They also want to establish a national network for Biblical Counseling ministry; this would include a website and possibly some kind of foundation or organization. They plan to accomplish this by Summer, 2022.
One of their encouraging verses is Philippians 4:4-7: "Rejoice in the Lord always. I will say it again: Rejoice! Let your gentleness be evident to all. The Lord is near. Do not be anxious about anything, but in every situation, by prayer and petition, with thanksgiving, present your requests to God. And the peace of God, which transcends all understanding, will guard your hearts and your minds in Christ Jesus."  This is Diane's life verse! Jesus delivered her from fear and anxiety through biblical counseling and He used these verses to transform her mind and thinking. She guards her heart and mind with scripture and teaches the counselees to do the same.
Doug and Diane enjoy being home together, working puzzles, painting, watching movies, and eating Diane's delicious healthy cooking!