Construction, Students, and Staffing – Oh My!
August 20, 2019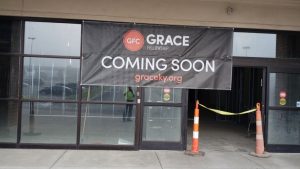 Hello Grace Family!
My heart overflows with joy and excitement as I think of all the Lord has done for our church body. I am even more overwhelmed with glimpses of the future of what the Lord is preparing for us, as his bride. What a joy to be a vessel, ready for use, in our Savior's hands!
Here are some quick Independence Campus updates to keep you informed.
Construction is moving according to plan
Construction on the "Old Kroger" started in July and continues to move forward. Currently, the walls are framed with plumbing and the electric is being "roughed in". Drywall is imminent after inspection. We anticipate occupancy in December to furnish the space and will begin soft launches with those who plan to attend. We expect the Grand Opening of the Independence Campus to start at the beginning of January. Please be praying for the love of Christ to engulf everyone who walks through our doors.
*Below are some photos if you'd like to see some of the progress.
Staffing positions have been filled

!
We are pleased to announce that all interviews have taken place and we have secured our team! We have complete faith that the Lord has hand-picked an eclectic, well-rounded team. Pray for unity and direction as we prepare for the launch and new year.
Eric Northrup – Campus Pastor
Stephen Petrie – Student Ministry Director
Ethan Thomas – Worship Coordinator
Chelsea Vallandingham – Children's Coordinator
Katie Ballard – Campus Administrative Assistant
When you see them, please feel free to congratulate and speak encouragement as they enter into what God may have for them.
Student Ministry Launch
A huge praise is that our Independence Student Ministry will start this Fall alongside the other campuses, Fort Thomas and Florence. God has blessed our student relationships greatly through Stephen and his team. It is our hope and prayer that a contagious community will be formed in which students can hear and receive the BEST NEWS EVER through the love of Jesus. We are excited to see what God will do!
Our Student Ministry will kick-off at the Independence Senior Community Center on Sunday, September 8 from 5-7pm. This will be our meeting place until the Independence Campus opens. 
Thank you, yes YOU, for your concerns, encouragement, and more importantly, your prayers on the development of this campus. There have been several twists and turns through this journey. However, we will continue to walk by faith, not by sight, moving forward with full assurance that His ways are better than our ways (see 2 Cor. 5:7, Isa. 55:8).
Grace be with you,
Eric Northrup
"Now to him who is able to do far more abundantly than all that we ask or think, according to the power at work within us, to Him be glory in the church and in Christ Jesus throughout all generations, forever and ever. Amen."  ~ Ephesians 3:20-21
---
---