FLO MSM | In-Between Sundays (09.11.18)

⏮ Last Sunday (09.09.18)
🗣Teaching Recap
We started out series in the book of Luke talking about: Jesus as a Middle Schooler. (Luke 2:42)
💡The main idea we talked about in Luke 2 was this:
"Jesus chose to be humble, even when He could have been proud."
Jesus came down to our level. (Luke 2:11-12)
Jesus listened and asked questions. (Luke 2:46)
Jesus obeyed His parents. (Luke 2:51)
🤓Definitions
"Proud" – Thinking or acting like you are better than others.
"Humble" – Putting others above yourself in the way that you think and act.
"Obedience" – An attitude that willingly says "Yes" to someone else God put in charge.
💬Discussion Ideas
We gave the kids homework: share this story or something you learned with someone outside of the group. Follow up with them to see if they've talked with anyone or if they have anyone in mind.
Some groups did what we call "I Will Statements" – basically, what's an area of life you think you need to change to be more like Jesus? Ask them if there was anything that they want to change.
Talk about what it looks like to choose to be humble, or put people above yourself.
*Again, we cannot REALLY obey God unless we have hearts that are changed by God. So, in all of this, be praying for your child that these conversations would lead them to see their need for Jesus.
▶️ Coming Up (09.16.18)
📖Sunday Morning Sermon
This week, Pastor Brad is going to kick off a series on the Beatitudes, and what a "blessed life" looks like. (Matthew 5:1-11)
✍🏽Sermon Notes Worksheet!
At the parents meeting, we talked about ways of training middle schoolers how to actively listen through the sermons.
Below is a link to a worksheet that I created to help guide students as they think through a sermon. I've put 4 main questions for them to think through, as well as a 2nd sheet (or the back if printed double-sided) for other notes or for doodling pictures that come to mind.
👇Just click on the image below to download and print the worksheet: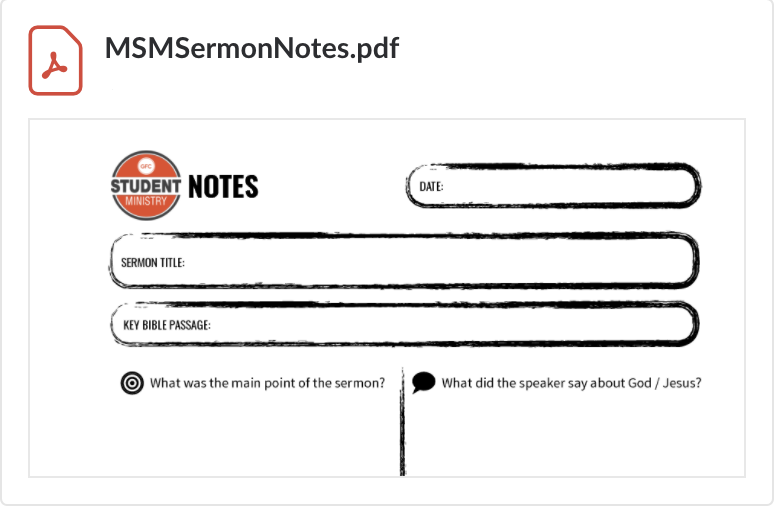 📖Sunday Night Teaching
This week we will be blessed to have Dave, our Director of Mobilization, teach on Luke 3:1-4:15.
The main idea is that: We need God's Spirit and God's Word to obey like Jesus.
📢 STAY IN THE KNOW  📢
TEXT | Send "graceflomsm" to 84576
FACEBOOK | /graceflo_msm
INSTAGRAM | @graceflo_msm
TWITTER | @graceflo_msm
---