Curtains, Creative Intentionality, and $$$ for Camp (3/24/19) | Couch Time
Do you have any questions about how to connect with your kids or other topics you are dealing with? Email us at [email protected]
Curtains, Creative Intentionality, and $$$ for Camp
Passage: Hebrews 10:19-25
Through Jesus, we have direct access to God, and He wants us to draw close, hold onto hope, and be intentional with others.
"When (God) calls us to do something, He provides the means to accomplish those things." – Ryan
Draw Near (Close)
Attitude/belief: Wanted, not just allowed.
Action: Coming to God in prayer
Action: Coming to God by listening to Him through His word
What do you turn to when things get hard? When things are good?
Have you had any "God-sightings" this week?
What are things about who God is that give you hope today?
Holding onto hope (Confident)
Identify lies & distractions that keep us from belief.
What are things that can help remind us of what is true? (music, books, journaling, people)
Creative Intentionality (Creative)
Consider/think about: "direct one's whole mind to a certain object or something"
How can we stir/motivate others to love others and do good things?
How can you bring your kids along as you love and bless others?
*Don't forget to participate in normal rhythms of being a part of Sunday morning services and a community group?
What is 1 thing that you can do this week to be creatively intentional with your kid(s)?
📢 ANNOUNCEMENTS 📢
3/31 – Sunday NIGHT: Parent Equip Night with guest speakers and 4 families getting money towards camp!
📖 G.O.A.T. Reading Plan –> click HERE to download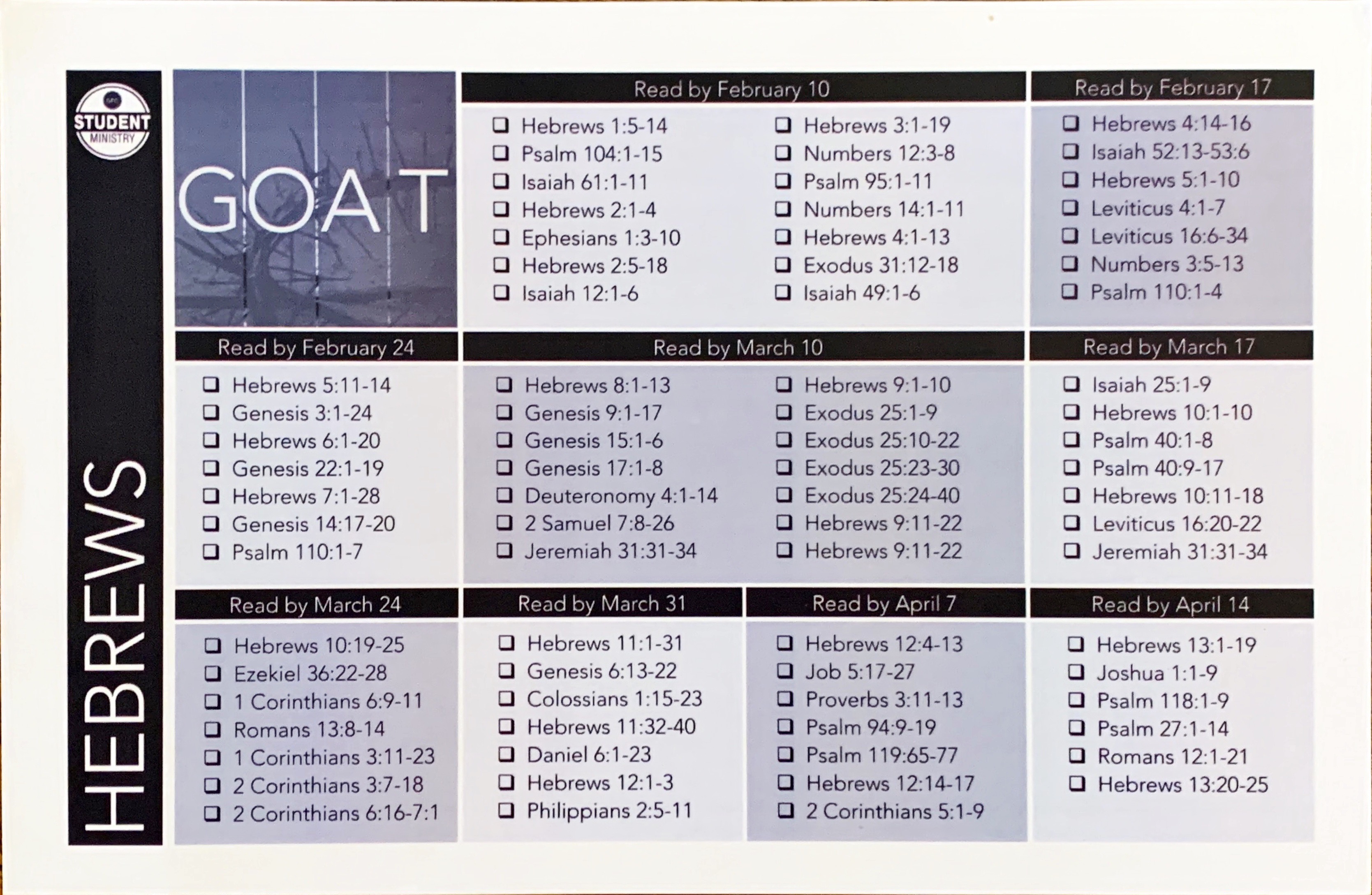 ---