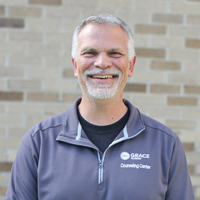 Todd Richmond
Operations Pastor
Life Story
I was raised in a great Christian family in Milford, OH. I was actively involved in church and youth group. At age 13, I made a profession of faith and was baptized, however it wasn't until after college that I really embraced who God is and what Christ has done for me. This change was brought on by some coworkers who questioned my faith. It was at this point, around the age of 23, that my life was radically changed as a follower of Christ.
God continues to teach me to trust Him at deeper and deeper levels. There are very important things in life that we have little to no control over. God says 'Do not be afraid', 'Trust in Me', 'I am good'. I am learning to trust His goodness, even as I learn to wait on His perfect timing.
In 1996, I was seeking a stronger church for my fiance, Cindy, and I to attend. A coworker invited me to GFC. The very first Sunday we attended (in Turkeyfoot Middle School), the warmth of the people, the obvious spiritual life, and the great Biblical teaching by Pastor Brad made it obvious that this was home. We never looked anywhere else after that first Sunday.
I've had various roles at GFC over the years, but I have been on staff since 2008. I love the simplicity of keeping the main things the main things. And I love the unity that we have in the body and amongst the staff.
Cindy, whom I consider God's most precious earthly gift to me, and I married in 1996. We have 3 teenage sons, each of whom comes with an amazing story of God's providence that reminds me daily of His grace and goodness. I like reading, camping (glamping), making spreadsheets, and fixing things (sometimes).
Hope for GFC
I hope that we will continue to faithfully follow Jesus as our head. That we will stay true to His word, not lose our first love, and continue to pray and strive to be His beautiful bride, no matter what happens to our society or even other churches.