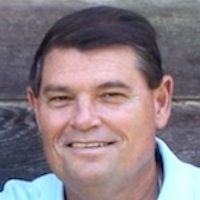 Life Story
I grew up in the town of New Castle, Indiana. I come from a blue collar, non-Christian, but "good people" environment. I played lots of sports growing up but had little to no church exposure.
One evening someone asked me if I believed in God. I said "yes". "Do you go to church?" she asked. I said, "No, but I am basically a good person." Later, she bought me my first Bible and invited me to church. I spent the next 2 years drinking through the theological fire hose and was completely undone and overwhelmed with God's grace. I kept reading the Bible and continued to study and attend church. After that, I was baptized and continue to be completely undone and overwhelmed with God's grace each day.
I've had to learn patience and that things do not happen on my time, but His time. He has a purpose in all that is happening more than we can know. I am grateful for each day where He has me in His timing and providence.
My wife, Tara, found out about Grace Fellowship Church when we moved here with our two daughters, Audrey and Avery. We got a recommendation from someone at our church back in Indianapolis. Having served here as a Deacon since 2012, I enjoy meeting fellow believers and growing in my faith.
Hope for GFC
My hope for GFC is that we keep the main thing the main thing, not be trapped by trends, and keep teaching sound doctrine.