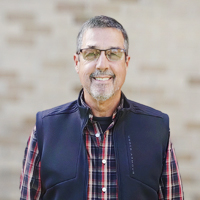 Life Story
I was born and raised in Northern Kentucky in a church-going, good, conservative, middle-class family. My mom stayed home with me and my two older sisters while my dad worked a blue-collar job. Our relationships were good, but toward the end of high school I began to struggle with a disciplinary father, religion, and church. I chose the desires of the flesh and sinful pride, leading to a turbulent life. At 18, shortly after graduating high school, I was arrested for a gun-related felony and sentenced to 16 years of hard labor in the Kentucky State Penitentiary. On January 6, 1976, about two years into serving my time, God's Spirit performed a Saul-like conversion (Acts 9) in my life. He opened my eyes, softened my heart and gave me repentance. As 2 Corinthians 5:17 says, "the old had passed away and the new had come."
After serving what ended up being about 5 years, I was released on parole. Then the Lord led me to Asbury College, where I met my wife, Jayne. We settled back in Northern Kentucky. As we prepared to welcome our fifth child into the world, we struggled to find a local fellowship with sound doctrine, who preached the whole Bible, and put it into practice. So, we prayerfully joined a few other families to begin Grace Fellowship Church. I have had the pleasure of serving as a church elder off and on since that time.
God blessed us with a total of seven children, all of which are now grown. We're a close and active family that loves nature and the outdoors. Most of our children have a relationship with Christ and we continue to trust Jesus to draw the others to Himself.
Hope for GFC
Our hope for starting Grace Fellowship was, and is still, for a relevant, loving, and scriptural setting where we could love God and others. I am so grateful to hear a sincere man of God proclaiming the truth of God's Word from the pulpit every Sunday.