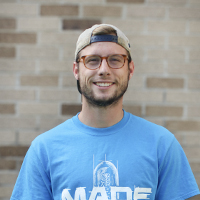 Stephen Petrie
Director of Student Ministry
Independence Campus
Life Story
I have three siblings and am blessed with parents who love Jesus. The Lord chose to save me at a young age and for that, I will always be grateful. I accepted early on that I was a sinner and had disobeyed God and needed God's saving grace through Jesus. I knew Jesus died to pay the punishment I deserved. And through His resurrection, He defeated the power of death. Through faith in Him, I could be forgiven and have a personal relationship with a perfect, holy God.
I'm encouraged by Romans 5:6-8. I'm so thankful that I do not have to clean myself up before I can come to God. He loves me so much that even when I was dead in my sin, He came and died for me. I would never have been able to live up to his perfect standard on my own so He came and did it for me. Wow.
My family first began attending Grace in my junior year of high school. For college, I went away to attend the University of the Cumberlands on a soccer scholarship and to pursue a Christian degree to prepare for full-time ministry. While in college, I served as an intern to Ryan Fultz for two summers. Ryan taught me so much about student ministry and invested himself in preparing me for what the Lord had in store for my future. After this experience, I knew I wanted to serve students at Grace when I graduated. I became the Director of Student Ministry at GFC in January of 2019.
I love serving in a church that values the preaching of sound doctrine through God's Word. Grace does not shy away from teaching hard truths and yet shows true love and care for people regardless of where they are.
In my free time, I still love to play soccer whenever I get the opportunity and I love to watch FC Cincinnati play. I'm also the track and field and boy's soccer coach at Simon Kenton High School.
Hope for GFC
My hope is that our church will continue to hold on to the balance of Truth and love. I hope that we continue to gather, grow, and go into the world with the hope of the gospel so that many may come to know and love Jesus.