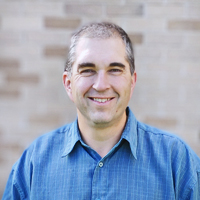 Life Story
I grew up in Bliss, Idaho and various parts of northern Utah. My parents were divorced when I was 5, and I grew up primarily with my mother and stepfather in the LDS (Mormon) church.
When I was 16, I looked at my dad's life (another marriage falling apart, alcoholism) and decided I wanted to do everything the opposite. I stopped drinking and met (and married) a cute Christian girl. Throughout college, I would have considered myself an agnostic, at best, even as I was outwardly "Christian." Christianity was more of a moral code for me than a submission to Jesus as Lord. I was training to be a science teacher, embracing the humanistic evolutionary worldview.
After getting a job as a teacher, we attended a baptist church in Sheridan, WY. I played the game and pretended to be a good Christian, but I was a hypocrite. I had become the very thing I hated about the fake piety of the Mormons I grew up among. The next summer, while building a house for my brother-in-law, I decided to read the Bible. It was either all true, or none of it was true. I can't say exactly when, but I know that God had changed my heart. I saw my own sin and hated it. I looked to Christ for forgiveness, trusting that He would continue to receive my repentance and that the Holy Spirit would lead me.
I currently work as a Christian apologist, so I have learned much about specific arguments to combat false ideas and religions. Over the last several years, I have come to rely less on arguments and more on biblical admonitions. It is not my words that change hearts, but the work of the Holy Spirit. Above all of the scientific and theological arguments, I always want to point people to the hope that I have in Christ (1 Peter 3:14-17). I want to leave the hope of forgiveness of sins through repentance and faith in Jesus ringing in their ears more than doubts about the big bang or claims the Bible can be trusted.
I have been serving as an elder since 2012 and enjoy helping people see more and more of the joy of following Jesus while teaching them to apply all of the truths we have in the Bible to their lives.
Becky and I have three children – our twins, Seth & Ally, and Kolten. You will often find me and my family enjoying the good outdoors via disc golf, fly fishing, hiking, hunting, and wood-working. Did I mention disc golf?
Hope for GFC
I want to see our church family grow in holiness and, as a peculiar people, take the glorious gospel of Jesus Christ to our neighbors, family, coworkers, and around the globe, as God calls each of us to unique areas of service.