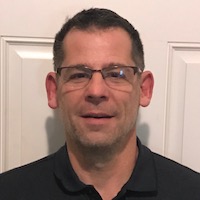 Life Story
I was raised in a non-Christian home. I grew up with three sisters and my parents, who got a divorce when I was thirteen. We only attended church on special occasions.
I was introduced to my future wife, Kim, on a blind date and I began attending church with her. We were married 5 months later. Our pastor at the time had come to our house for a visit and through that encounter, I accepted the Lord as my personal Savior. Since then, I have tried to honor God's Word with my life even though I am still a sinner saved by grace.
A significant time I saw God work in my life was through a job change that caused me to move from Michigan to Cincinnati. For two years, I commuted back and forth to Cincinnati and only saw my family on weekends.
Looking back, it is overwhelming to see how the Lord provided for us in every detail.
After officially moving from Michigan, we began searching for a Bible-teaching church. We found Grace and never left. I've been serving as a Deacon at GFC since January 2018. I also help to serve coffee on Sunday mornings. One thing I enjoy about serving is the opportunity to have fellowship with people. It enables me to build relationships with people I may not otherwise meet.
I'm married to my wife, Kim, and we have four children and two grandchildren. For fun, I enjoy training for and running half marathons and 10k's.
Hope for GFC
My hope is that Grace would continue to share God's Truth through His Word.