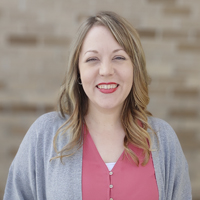 Rachel Boone
Finance & Office Manager
Life Story
I grew up in Ludlow, KY. My favorite childhood memories are when I spent the summers at my grandparents' house. I would glean knowledge about plants and such from my papaw, as well as the art of pranking. I learned how to grow watermelons and sunflowers, and how to snipe hunt and scare mamaw with plastic snakes.
After choosing a very rebellious path in my teens and early twenties, God brought me to the end of myself and saved me at the age of 25. God started ripping away all of the idols I had been clinging to and I was overwhelmed by the weight of my sins. I realized I was reaping the fruit of the choices I had made and there was nothing I could do to make it right. The solution had to be outside of myself. God met me in my bedroom one night when I surrendered my life to him and the Holy Spirit rocked my world (Psalm 40:2-3).
I am really encouraged by 2 Corinthians 12:9-10. It reminds me that Christ is working in my weaknesses. I can rest in the faithfulness of Christ to accomplish his purposes in me and through me. He is meant to be my strength and I can embrace my weaknesses, knowing that I can bring my nothing and Christ will provide and sustain me.
I first came to GFC after a friend from NKU invited me to attend. I've now been working and serving here since 2015. I love the people I work with and I love getting to be a part of what God is doing through this body.
God blessed me with a spunky daughter who keeps me laughing, moving, and praying. For fun, I enjoy fellowship, cooking, hiking, exploring, adventuring, gardening, and reading. I also really enjoy art, museums, and the ballet.
Hope for GFC
I hope that we would continue to be a light in the community and around the world. I pray that God would use the people of the body to save and make disciples and that we would glorify God in our hearts and lives.