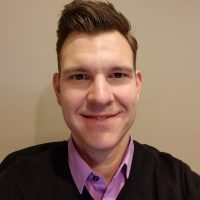 Life Story
I was brought up in a Christian home and while not perfect, my parents were very intentional in making sure Christ was at the center of our home. I was saved at a young age while attending my children's class at church. I heard the lesson and recognized my need for a Savior. I accepted Jesus that day.
I am really encouraged by Isaiah 46:8-10. It is a great reminder of God's sovereignty and omnipotence. I love hearing my God declare who He is.
I was first led to GFC through some friends who were regular attendees. I had no long term intentions but God had different plans and I am so thankful for His provision. I've been serving as a deacon at GFC since 2017. The thing I enjoy most about serving at GFC is simply serving and helping. I think it adds a deeper connection to being a part of our church family.
My lovely wife is Julie. We met in our Community Group. We dated for one year and I decided I couldn't let her go. We were married in March 2017. Some things I enjoy outside of GFC are going to new places and meeting new people. And I love to work on just about anything with an engine.
Hope for GFC
I hope that we will always be obedient and intentional in living out the gospel and that we would be faithful with what God has given us.