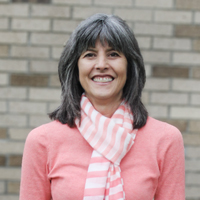 Linda Markesbery
Resource Center Coordinator
Life Story
I grew up in a pastor's family, constantly exposed to the family of God and His Word.  Making a profession of faith at the age of five, but lacking any change of heart, I went from pretending to be good as a child to pursuing complete obedience as an adult.  However, without faith, pleasing God was impossible and I constantly felt under condemnation.
Finally, I sought counseling at here at Grace Fellowship and God faithfully exposed my heart of unbelief and pride.  I am so grateful for how He can meet each of us with His gospel, no matter what our story is. He has changed my life through opening up the familiar words of Scripture with the reality of faith.
Grace Fellowship was only about three months old when our family began to attend.  We've were so drawn to a church where the teaching was made applicable to life and community groups met for fellowship through the week.
I am happily married to Kevin.  We have been incredibly blessed with four children, all grown now, as well as five beautiful granddaughters.  I love being a grandma! Kevin and I enjoy reading, biking, hiking and water-sports as well as getting together with family and friends.
Hope for GFC
Just like I look forward to becoming more and more like Christ in my personal walk, I hope that we keep on growing more and more along the path to life as a Body. I hope we grow in knowing our need for Him, in humility, in faith, and obedience. No small thing, BUT God!