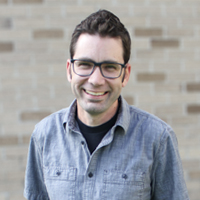 Lee Nordine
Director of A/V Technology
Life Story
My parents served as missionaries in the Philippines and that is where I spent most of my childhood. We returned to the United States for a year or two on furlough, but I did not move back for good until I graduated from high school. When I was eight years old, the Lord showed me that I needed more than my parents' religion and I accepted Christ into my life.
I was living in Northern Kentucky in 2003 when I reconnected with a college friend. He invited me to visit Grace Fellowship. I have been part of the church since then and I began working for GFC in 2008. My amazing wife, Candace, and I have four daughters who keep us busy. In my free time, I like to build things, spend time with Candace and our girls at the beach, and hunt for donut shops that we haven't tried yet.
Lately, the Lord has been teaching me about gratitude and contentment and I am hoping to continue to learn and grow in these areas. 1 Timothy 6:6 says that godliness with contentment is great gain. I want God to keep developing these qualities in me as I draw closer to Him.
Something I enjoy most about my work at Grace Fellowship is the people that I work alongside. Both the staff and the volunteers are willing to do what is needed and they serve eagerly.
Hope for GFC
My hope for GFC is that God will use it to bring people to faith in Him and to grow people and change them to be more like His Son.