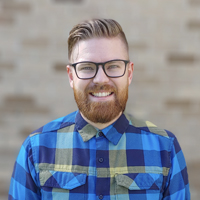 Joshua Lewis
Communications Manager
Life Story
My family moved to Northern Kentucky from California when I was ten years old. Throughout my childhood, I played soccer, earned a black belt in Shotokan Karate, homeschooled, and played guitar in the youth group band. I feel blessed to have had the godly influence of my parents and of other leaders in my life during those years. Growing up, I knew that God existed and that Jesus was real, but I "prayed the prayer" over and over again just in case I had done it wrong the previous time. I was putting my faith in the words I was speaking and not in Jesus. My family began coming to Grace Fellowship shortly after we moved to Kentucky and it was around then that I joined a baptism class. That was the first time I remember knowing that Jesus was the reason I would go to heaven. He took my sin and guilt, paid for it, and gave me His righteousness. I have been on a journey since then, learning what it means to follow Jesus with my whole life. Some of my current interests are hip-hop, bonfires, talking with people, and brainstorming ideas with others.
I married my wife, Laura, in 2010. She is beautiful and smart and talented. I call her my "war counselor". We have had four miscarriages over the years, one of which nearly took Laura's life. The last miscarriage was a breaking point for me and I became angry with God, not understanding why He would do this. After spending months in that place of anger and bitterness, an older believer approached me at work and asked me how I was doing. He gave me a hug, reminded me that God knew my pain, and told me he was sorry for what I was going through. This encounter was a turning point for me. I felt God's gentleness toward me and knew that He was not distant. Instead, He was there as a Father, walking through my pain with me.
I began working at GFC in 2018 and I love being part of building up my church family, equipping them for the mission Jesus has called us to, and seeing God's power to save and heal people.
Hope for GFC
I want our church family to be known for being hopeful, humble, and helpful and I want people in our community to respect us because of our character.