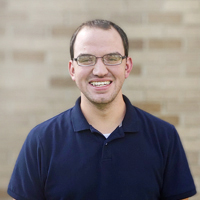 John Minor
Assistant to Florence Campus
Life Story
I grew up on a farm in western Kentucky. I accepted Jesus as my Savior when I was 12 years old. As I have matured, I have gained a deeper understanding of how severe my sin is and how much I am in need of Jesus—the only one who can save me from my sin and death.
I attended NKU for college. After I graduated, I moved away for about 5 years but God eventually gave me a desire to be back in northern Kentucky and led me to GFC. He used difficult circumstances to make me realize this is where He wanted me to be and He made it happen!
Some things I enjoy about serving at GFC are working and standing alongside people who are committed to God and having the privilege of investing in the lives of others.
As far as my hobbies and interests, I am a huge sports fan. I follow my favorite teams at the professional, college, and high school level. I especially love Kentucky basketball and football (yes, I'm a true UK fan). I'm also a fan of the Reds and the Bengals for better or for worse.
Hope for GFC
My hope for GFC is that we will always stay true to God and His Word, always give Him all the glory, and never cease in making Him known.