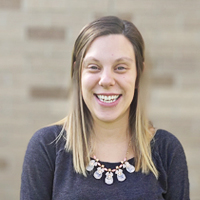 Gabbi Noll
Assistant to General Office
Life Story
I grew up in Melbourne, KY in Campbell County with my parents and younger twin sisters. My family always made quality time together a priority. My sisters and I have always gotten along well and to this day, we are best friends.
The Lord has always pursued my heart. I often went to church camps growing up and God eventually revealed Himself to me through a vision. I saw a sweet dad bending down to hug his daughter, which was me. Fast forward a couple years later, I got involved with an organization called Young Life, an outreach ministry to show teens that there is freedom in walking with Christ. As I began to teach high school students about Jesus, God taught me how to live out daily what I was teaching.
I am so encouraged by Psalm 91:4. "He will cover you with His feathers, and under His wings you will find refuge; his faithfulness will be your shield and protection." I love that He will always care for us, even though He is high above. When I was experiencing my parents' divorce, God was my wonderful, peaceful escape. He was truly my refuge in that great storm.
Kevin and I met serving together in Younglife in 2013. Then married in 2016! We still serve side by side, which is fantastic.
I was led to Grace through a job opportunity. God answered so many prayers and gave such clarity when leading me to Grace and my current job. I know God has me here for a reason and I am just an obedient daughter of the King!
One thing I enjoy about serving at GFC is the wonderful staff. We have fun and I love how we utilize each person's God-given gifts. We seek each other's opinions and creative ideas. When someone is enthusiastic about something happening in our church body, we share in the excitement!
I love to walk outside and listen to music. God reveals Himself to me through nature and His creation. Cooking is also a wonderful gift and pleasure that I inherited from my mom.
Hope for GFC
My hope for Grace is that we never stop outreaching to new communities. I hope we always embrace the heart and manpower we have to spread God's Word in northern Kentucky.