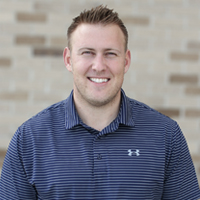 Eric Northrup
Independence Campus Pastor
Life Story
I moved around a lot as a child living in Texas, Michigan, and Kentucky. Moving at an early age was very tough for me. I experienced a lot of hurt and pain through bullying in middle school. I was angry, confused, and bitter as I tried to understand the world and my place in it. In return, I became very inward and sports became my outlet and a way to fit in with my peers.
I did not grow up in the church and had no knowledge of what a relationship with Jesus looked like. I came to know the Lord the summer of my sophomore year in high school. A friend of mine shared the Gospel with me and helped answer some of the questions I had regarding life. I always knew there was something more to life, I just didn't know what. As I read Proverbs for the first time, the Word spoke to my heart. The wisdom and life that flowed through the pages made my spirit jump with joy. I found the life that I so desperately wanted, the life that I was created for. I remember praying to God alone on my bed. I wanted to live for Him and I accepted Jesus into my heart. Quickly after, I experienced the inexpressible and glorious joy found in 1 Peter 1:8-9.
I believe my pursuit of the Gospel led me to GFC. I am so thankful for the preaching and teaching here. Regardless of the subject matter, the beauty of what God has done for us in Christ is continually proclaimed. One thing I enjoy most about serving at GFC is the privilege to be around believers in Christ and experience life with them.
I have a beautiful wife, Kristan, and two amazing daughters, Sarah and Sadie. Kristan and I are thankful to be back in NKY to raise our kids near our families.
For fun, I love anything active or anything requiring high adrenaline. Fishing, golf, and exercising are a few hobbies I enjoy. Most of all, I'm thankful for time with my family and watching our girls grow up.
Hope for GFC
I hope that we would be a church made up of believers with sound doctrine and a missional heart to love and encourage believers and nonbelievers with the hope we have in the Gospel. Ephesians 3:14-21 is my hope and prayer for Grace Fellowship.