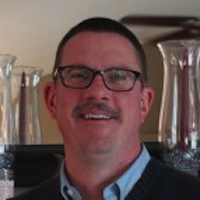 Life Story
I was raised in a Christian home surrounded by family and friends. Despite my upbringing, I never really understood the gospel or my need for a Savior. In 2001, my wife and I were finally looking forward to having a baby after years of trying to become pregnant. A short time later, I lost my job, 9/11 happened, and she lost the baby. By God's grace, we began reading our Bibles searching for answers. Later that year, we went to church with my parents and heard a sermon on Romans 11:22, "Behold the goodness and severity of God…". We were both saved as we understood how God had been pursuing us through adversity.
Colossians 1:15-23 is tremendously powerful and encouraging in my life. It reminds me that Jesus is God, ruling over and sustaining the entire universe. He is the head of the Church as He reconciles sinful men and women to God. He will present us as His own possession, holy and blameless, to the Father. This passage calls me to remain faithful, keeping my hope centered in Christ alone for only He can save!
We first came to Grace in 2010 while looking for a church that was faithful in proclaiming the sovereignty and the grace of God. On that very first Sunday, Pastor Brad was preaching through the "Big Rocks" series and the focus that day was the Big Rocks of Sovereignty and Grace! We've been coming ever since!
I love serving God's people at GFC. It is a great pleasure to see how God is at work in people's lives and I get to be a really small part of that. As I see God working and changing people, it gives me hope that He's changing me! He is faithful to complete the work He's begun in us and serving creates opportunities to see His faithfulness up close.
I am married to Jennifer and we have 3 children: Annie, Zach, and Ryan. For fun, I enjoy hiking and camping with my family and friends. I'd love to find more time for woodworking and fishing.
Hope for GFC
My hope for GFC is that we would remain faithful in proclaiming the gospel of Jesus Christ and His transforming power. I also hope that we continue to equip the saints for service. In doing these things faithfully, I expect we'll see both the Church and our community transformed.