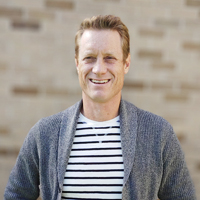 David Michael
Director of Groups
Life Story
My parents became missionaries when I was four, so I spent my childhood moving all over the world. I was born in Ohio and that's where we always returned, but we also lived in Illinois, Brazil, and Zimbabwe. Many of my first memories include traveling and experiencing the reality that people are people, no matter their skin color, language, or culture. There was a time during my high school years when I became disappointed in my family and my experiences. My solution was to escape back to the US, but it didn't take long for me to realize that running away hadn't fixed anything. The Lord used this time to bring me to the end of my plans and to a willingness to surrender to His plan, which included acknowledging that I was a sinner in need of a Savior.
My mom got cancer and passed away when she was 52, which led to several years of me struggling with God's goodness and sovereignty. She had raised her family and had gone back to school to become equipped to teach the Bible through literacy. She seemed to me to be in the prime of her ministry and I couldn't understand why God had taken her. I have learned, though, that God is both good and sovereign!
I heard Brad Bigney speak at a conference several years ago and realized that there was a church in the Cincinnati area that loved biblical counseling. I knew that I wanted to plug into a church like that.
I got married in 2016 and my wife, Kristina, and I just welcomed our first child. We both enjoy traveling and witnessing God's beautiful world and how man has managed it. I also enjoy biking, playing tennis, and other sports, but less so as my knees get older.
Hope for GFC
I have been working at GFC since 2013 and I love that the Gospel is key in all we do. My hope is that we will grow in the areas the Lord is calling us to grow in and that we would continue passionately doing what we do well.