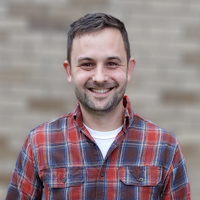 Life Story
I grew up here in Northern Kentucky. I am from a large family and experienced such joy in that family growing up. It wasn't until later that my parents became Christians and started bringing us to Grace. I was around 12 or 13 years old at that time.
I don't have a defining moment of when I came to know the Lord. It was after my parents started bringing us to church that God showed me my heart. I realized that I could not fulfill His standards, but also that I didn't have to. It wasn't until much later in life that God matured me in my faith. Many of my siblings and I are now Christ-followers. We share a deep bond as earthly siblings and as siblings in God's kingdom!
I am really encouraged by Ephesians 2:8-10 where God reminds us of the simplicity of the gospel and how it is a free gift. This is the core of our faith and I love to focus on these humbling truths that fill us with compassion and love.
I've been serving at GFC since 2016 as an Elder. I really enjoy getting to be around the humble and amazing servants God has raised up in our church.
I am married to Megan and we have five beautiful boys. As far as my interests, I have always had a passion for technology. I love learning about it and using it. It is also fun for me to explore what my children like to do.
Hope for GFC
I want our church to be a part of many people's stories of salvation through the faithfulness of God as GFC steps out in obedience and boldly loves our surrounding communities.