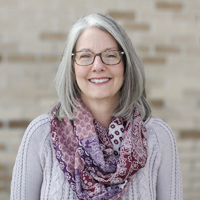 Cyndi Allison
Assistant to Missions & Worship
Life Story
I was born and raised in Florida. God chose to save me when I was 22 years old. I had been attending church with a family member. The pastor was preaching from the book of Romans and one day, I simultaneously saw my sinfulness and my Savior. My life has never been the same since!
The Lord led us to GFC in 2012 when we moved to northern Kentucky. We watched some sermons online before visiting. After we came, we never left.
I have been working at GFC since June 2017. Two things I am most thankful for at GFC are the love and grace everyone has for one another and that God's glory is our top priority.
Something God has been showing me recently is just how faithful and trustworthy He is. His grace is sufficient, He is all satisfying, and He does not change!
I have been married to Kenny since 1989. We have 3 grown children, Daniel, who is married to Brittany, Sarah, who is married to Jeff, and our youngest, Zachary.
Hope for GFC
My hope for GFC is that we will glorify God in everything we do, that we will be faithful to His Word, and that we will love others as Jesus loves us.