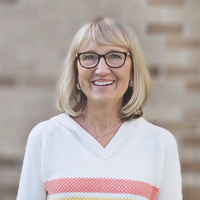 Cindy Malott
Director of Children's Ministry
Life Story
I was one of ten children born into a Catholic family in the Cincinnati area. My father died when I was 18 and it was a difficult time for my mother who was left to raise her children alone.
God plucked me out of darkness in 1995. By then, I was married and living in Florida with my husband. We were both self-centered sinners and our marriage was falling apart. Around that time, through God's divine providence, I went to a women's retreat with friends and began reading the Bible. God started to soften my heart to His truth, mercy, and grace. My husband saw the changes in my life and God touched his heart in the same way. We began attending a Bible-believing church and God opened our eyes to His greatness.
In 2011, my husband died after a brief battle with cancer. We had been married for 28 years. I knew about God's sovereignty and His purpose in suffering, but this was the first time I experienced that through a real crisis. God was faithful to me in my grief. His comfort, strength, and love poured into my life. God continues to show HImself faithful and trustworthy as He continues to grow and care for me.
I have been working at GFC as the Director of Children's Ministry since 2015. I am overwhelmed and grateful on Sunday mornings as I witness God working through the humble, Christ-like servants through the Grace Kids team of volunteers. In my time away from GFC, I enjoy listening to music, spending time with the Lord, and taking walks alone or with friends – along the beach, preferably!
Hope for GFC
My hope is that the Lord would be pleased to accomplish His vision at GFC. That He would raise up a generation of Christians who have the courage to stand, the confidence to speak up, and the heart to sacrifice. And that God would work through this team to instill in the children at Grace a desire to read the word of God, give them the strength to obey it, and grant them the inexpressible joy of being changed by it.