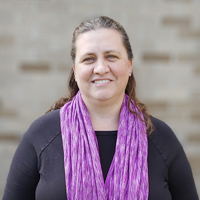 Christy Owens
Assistant to Finance & Florence Campus Children's Ministry
Life Story
I was raised in the Catholic church. I attended 12 years at a Catholic school and went to church every Sunday with my family. God later used my husband, Brian, in many ways to help me see the Truth of the Gospel. He was saved about a year before me and was faithful in teaching me the Truth of God's Word. Once I realized that I was a sinner, I repented of my sins and recognized my need for a Savior.
We came to Grace in the winter of 2010 after church shopping for some time. We loved Pastor Brad's message and his preaching style. We have never looked back since then. I started working with the Children's Ministry in January 2016. I love being able to serve with our volunteers every Sunday. I have had the privilege of meeting many people and their children.
Brian and I have been married since 1998 and have four children. We feel we have experienced almost two separate lives together as a family. We had our first two children when we were living a sinful life and the other two after we were saved. God has done such a mighty work.
For fun, I love to spend time with my husband and children. I also enjoy doing jigsaw puzzles and mind puzzles.
Hope for GFC
I hope that we can continue to preach the Truth of God's Word and that we will always put God first in everything we say and do.