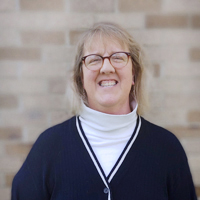 Anne Steinmetz
Counseling Ministry Coordinator
Life Story
I grew up in Mundelein, Illinois, which is a suburb north of Chicago. I grew up in a family of 6 children. We were a strong "dye in the wool" Catholic family that embraced the Catholic faith and Irish Catholic culture. This included "family masses" at my grandparent's home a couple times a year. Our family and extended family were very close. We spent a lot of time camping, which we still like to do today.
I came to know the Lord through attending a revival. I was assisting the youth pastor of my parish and he had two friends visiting from Tennessee. They just happened to be Pentecostal ministers and were planning to preach at a revival. They invited me to the revival and I heard the Gospel message. There was an altar call and I went forward, although I wasn't really clear on what it meant. On our drive back, one of the ministers asked me what I thought of the revival. After getting clarity that God gave us Jesus to take away our sins, I repented and received God's gift of grace and mercy.
My husband and I originally moved to Kentucky to intern for Pure Life Ministries. During that time, we visited Grace monthly. When we were finished interning, we knew we wanted to stay in Kentucky and make Grace Fellowship our church home.
I have been serving as a Biblical Counselor since 2010 and serving on staff since 2016. I enjoy serving a godly staff that have an amazing heart to serve the GFC body. Truly, "We Are Family!"
I am married to Chuck, who is my very best friend. We have three dogs, who we call "kids". I admit we have a "dog-centered" home. I enjoy gardening, music, painting with acrylics, pastel highlighting, and other crafts. I love to spend time camping. I also enjoy watching college football. I am a Big Ten fan as well as Notre Dame… I'm beginning to enjoy watching the SEC, too.
Hope for GFC
My hope is that Grace would continue to be a beacon on a hill for Christ. I hope that we will preach the Gospel clearly and often and be a church that offers the hope of Christ locally and around the globe.