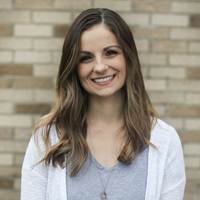 Anja Vandermeer
Assistant to Lead Pastor
Life Story
I grew up in a small town in a family of five. I was raised by Christian parents and spent my childhood involved in our church and community. My parents divorced when I was 10, but were faithful in loving and caring for us well and teaching us about Jesus.
I gave my life to the Lord at a young age after realizing that I was a sinner and needed a Savior. I spent my childhood learning about Jesus, learning many Bible stories, and being very involved in my middle and high school youth group. Toward the end of high school and beginning of college, I was more focused on myself and did not prioritize my relationship with God. I tried to handle trials in my own strength and I am thankful the Lord allowed me to reach a low place. I began to pursue Jesus more as He pursued me. He used a college campus ministry, Cru, to grow my faith and develop community with others.
I am so encouraged by Hebrews 12:1. "Therefore we also, since we are surrounded by so great a cloud of witnesses, let us lay aside every weight, and the sin which so easily ensnares us, and let us run with endurance the race that is set before us." This verse reminds me to run from sin and to run to Jesus. I love that this verse speaks of endurance because the Christian walk is not an easy one.
I met my husband, Chase, through a college friend and we were married in 2014. We came to Grace and loved the clarity, truth, and depth of Brad's preaching. It quickly became our church home. I started working at GFC in March of 2018. One thing I enjoy about serving here is getting a closer look at all God is doing through the body of Christ.
For fun, I enjoy creative and artistic things, especially oil painting. I enjoy reading, movies, spending time outdoors, spending time with loved ones, and watching Kentucky basketball!
Hope for GFC
My hope is that the people here would love Jesus with all their hearts and intentionally love the people God puts in their path. These are the two greatest commandments so I believe they are the most important things for us as a church.