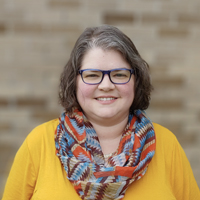 Amber Jones
Children's Ministry Coordinator
Fort Thomas Campus
Life Story
I grew up in a very small town with loving middle-class parents and a younger brother. My favorite childhood memories took place at my grandparents' farm. They were strong Christians and took my brother and I to church each week. In part to their dedication, my parents came to know the Lord.
During a church camp when I was 14, I felt God telling me it was time to make my own decision. I could choose to place my trust solely in His Son or pursue life without Him. I chose to give Him my life. I am eternally grateful for his willingness to continue working on me even as I continuously fail.
More recently, I have had the pleasure of seeing God reveal so much about His better plans for my life. I had been pursuing my MBA intending to move through the corporate world and pursue a high-level role. God started revealing my sinful pride regarding this goal. He began placing a desire on my heart for ministry and changing my personal priorities to align with His own. It became very clear that getting involved in the Safe Families ministry was the direction he wanted me to take my life. Further, He has now provided the position of Children's Ministry Coordinator at Grace. It's been amazing to see the way He is providing my MBA application to these roles. Nothing is wasted!
My husband, Jason, and I love attending GFC and appreciate the biblical doctrine and how Grace is unafraid and unashamed to share the truth. I enjoy serving at GFC for many reasons. Grace leadership truly supports our service to the Gospel with appreciation and empowerment. There is an emphasis on sharing the truth of the Gospel in all roles at Grace and the volunteers serve with love.
My wonderfully supportive husband and I have two very active boys, Jacob and Jon. We live in Fort Wright and are active in the school system and community. We truly believe in showing the love of Jesus through service to our community, jobs, and networks.
I enjoy baking and reading. I love being in the mountains or in Amish country to slow life down and spend time in the beauty of God's creation.
Hope for GFC
I hope and pray that Grace continues to grow as we share biblical truth even when it contradicts cultural norms. I truly believe God has big plans for Grace in the expansion of His kingdom and I cannot wait to watch this materialize. I believe that GFC can be used as a beacon for those hungry for truth and hope.